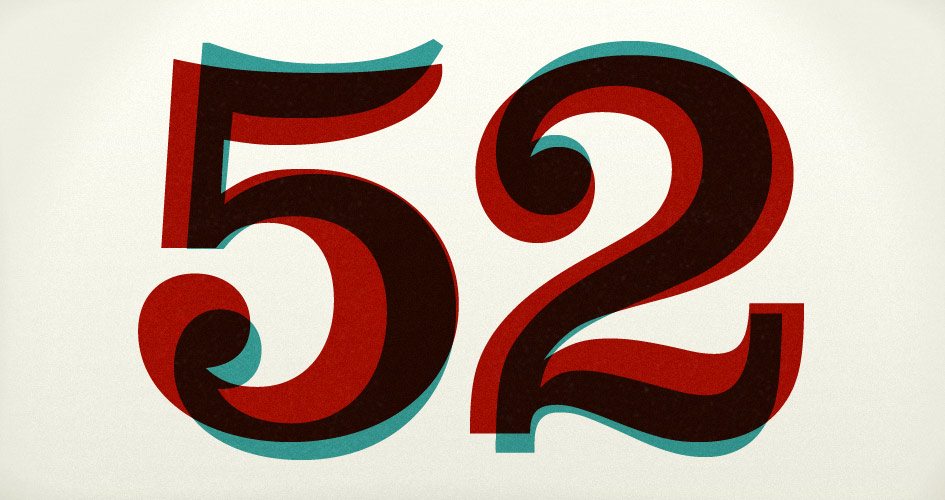 Why hello there 2015! I hope you're way better than 2014! What's that, you're still a clogged drain of unending awful? Figures.
Thankfully, we have books! Consider this your formal, engraved invite to the 52 Book Challenge!
Ever since 2013
, I've been hosting the 52 Book Challenge on Stellar Four and it's been an amazing experience. I love hearing what everyone chooses as goals and I check in every so often to see how everyone is doing. In addition to the 52 Book Challenge, I also do what I've begun calling the Nightly Re-Read.
The 52 Book Challenge is easy. 52 weeks in a year equals one book per week. It's a steady, attainable pace and a good baseline goal to set if you want to increase your yearly amount of books read. God knows that TBR pile won't get smaller on it's own! What types of books count towards the Fifty Two Book Challenge? Almost anything! Fiction, non-fiction, e-books and e-novellas, graphic novels (the collected editions, not single monthly issues), manga and short stories. What doesn't count? Magazines, online articles, monthly single comic issues, newspapers, online comics. I'm also going to make an executive decision and say that academic papers don't count either. Sorry, grad students! After some interest this year, I am going to include fanfiction in the approved category. Don't say I never did anything for you, fellow fan girls.
In 2013 I read 59 and a half books. 2014 was a little better but below my expectations. In total, I read 63 books, short stories and graphic novels. I was kind of hoping to hit 65 but a tough time in the summer set me behind a little. I broke it down a little further this year. Of the 63 books I read in 2014, 17 were e-books, 14 were re-reads and total pages read was approximately 18,112! Not too shabby. I'm a little surprised the e-book number is so low, honestly. If my math is correct (and it probably isn't), that's about 26% of all the books I read.
In 2015, I want to hit my goal of 65 books and I'd be over the moon if I hit 67 or 70! I should probably try and read more on my Kindle too. I buy so many e-books and it's so weird that they were barely a quarter of my total reading last year.
If the 52 Book Challenge doesn't do it for you (or you're feeling extra ambitious), you can also take part in the Nightly Re-Read. Basically, I use it as an easy way to re-read books I want to revisit. Simply read one chapter of a book or series before bedtime. There you go. Doing this, I re-read the entire Harry Potter series last year, something I found incredibly rewarding and fun. I also re-read a slew of Neil Gaiman novels as well as Alice In Wonderland and the Picture of Dorian Gray. It also included my yearly seasonal re-reads, A Night In the Lonesome October by Roger Zelazny for Halloween and Hogfather by Terry Pratchett for Christmas.
This year, I'm trying to challenge myself a little more with the Nightly Re-Read and I'm facing off against books I haven't touched for many years. I'm starting with The Lord of the Rings. It's been a bit of a slog so far but I hope once the action picks up it will be a little more exciting. Also on this year's docket is The Chronicles of Narnia, some essential HP Lovecraft and maybe some more Terry Pratchett. We shall see!
With all that said, I want to see a show of hands! Tell me in the comments if you're going to join me once again for the 52 Book Challenge or the Nightly Re-Read! Tell me your goals! Let me know what books you're looking forward to and which old favorites you might pick up again. I'll check in with you every few months to make sure everyone is on pace to get to 52 books.
SO LET'S DO THIS! 2015's 52 Book Challenge starts NOW!