Supernatural, darling of genre TV shows, just hit the epic milestone of 200 episodes this week. That's hard enough for a regular sit-com to it, it's damned impressive for something like Supernatural. Its fans are legion, its gifs numerous, and its impact on pop culture undeniable.
I've only ever seen three and a half episodes.
I like to tell people that I'm bad at TV. I'm not one of those hipsters who thinks TV is below them, I just have absolutely no space in my head for remembering when shows are on or what channel. If it's more complicated than a cartoon, I'm out. I almost never watch live TV. I either catch up on OnDemand or marathon on Netflix. Hell, even if I absolutely love a TV show I tend to complete forget it's existence. Despite my love of Sleepy Hollow, I haven't seen one episode of this season. Don't get me started on TV shows that started years ago. My chance of catching up with them? Slim to nil. I'll probably never watch Twin Peaks or Pushing Daisies even though I've been told they're classics. Catching up on 200 episodes of a show? Impossible.
I know I'd probably love Supernatural. I know all about the characters (hey Dean heeeeey) and the plots. Cultural osmosis and tumblr have me up to speed on what's generally going on and I've seen youtube clips of some of the funniest bits. Sam and Dean stuck in a commercial talking about STDs? Hilarious. But it's 200 episodes. I feel like I've discovered an awesome sounding book and I've discovered it's actually 27th in a huge series. It's impossible to start. It feels impossible. There's just no way. Especially since I have so much other stuff going on.
I've only seen three full episodes and they happen to be the first three. A long time ago a friend of mine in college lent me the first disc of her Season One box set. She took it back before I was able to finish it. I wanted to watch the rest of it but Netflix wasn't a thing back then and she had lost the third disc and, well, what was the point?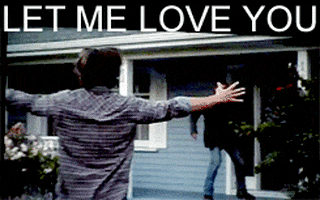 200 hours of a show. If I started tomorrow and watched one episode a night, I wouldn't be done until next JUNE.
JUNE!
It didn't even take me that long to read all seven Harry Potter books! Sometimes I think I should just try and watch the best episodes of the various seasons but I'm a completest. I'd never feel comfortable with that. I'd have to watch them all.
Goddamn, I am so bad at TV. Supernatural, I want to love you, but it's just logistically impossible. I'm so sorry, Dean. No, not the puppy eyes! Oh god why!