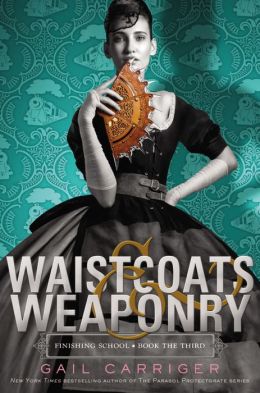 One of the best feelings in the world as a reader is when a series you love with all your heart comes out with a new volume. Oh, the thrill of it! The delight! That sad feeling when it's over much too soon. The latest release to come swaggering into my life is the second to last volume in Gail Carriger's incredible Finishing School series.
Waistcoats & Weaponry
is the third outing for Sophronia, the intrepid protagonist of the series, and it's the best volume yet!
Carriger's
Finishing School
series is closely linked to her wonderful, and now sadly complete,
Parasol Protectorate
series. It's a delight to read the
Finishing School
series and see how certain plots began. This time,
Waistcoats & Weaponry
deals with the werewolves of Carriger's universe and the results are explosive!
So far, Sophronia and her friends have proven to be wonderful companions in these books and it's great fun to follow along in their adventures. The girls are starting to get older and come into their own now and this book showcases it the best. Everything changes in this book.
While the last two books were vampire heavy, the wolves finally get their time to shine. Sophronia's friend Sidheag Maccon is called away from school because of a massive upset in her family; the Kingair pack's beta had to be put down by Lord Maccon, who flees to London. Sidheag travels to Scotland to help and Sophronia and Dimity rush to her aid. These events have huge implications since Lord Maccon leaving Scotland becomes the reason he meets and later marries Alexandria Tarabotti.
While on the way to Scotland, the girls pick up two of their gentlemen friends, Soap and Lord Mersey. They encounter malfunctioning robots, a sinister plot involving an old school enemy and manage to steal both a dirigible and a train.
The action in
Waistcoats & Weaponry
is top notch. It's full of daring do and impressive feats of espionage. The dialog is Carriger's usual brand of wit and whimsy and the characters are all at their best here. The story rockets around and doesn't let up for a second. The ending was so incredible I didn't breathe for the last five chapters. I couldn't believe what happened. It was ASTOUNDING. The next book can't come fast enough!
Overall,
Waistcoats & Weaponry
was another fantastic romp through Gail Carriger's wonderful, witty Victorian world and I can not wait to return to it. The fun characters, sharp wit and zany antics all lead up to an explosive, game changing finale. You do not want to miss this book. Grab your most trusty parasol, steal a dirigible and head to your local bookseller to pick this volume up!