by Megan S.
The idea of making Thanksgiving dinner for your family and friends can be daunting. You want everything to be perfect but it's not like you can practice ahead of time. (Well, OK, I guess you could but who wants to actually go to all that trouble?) So, what do you do? Cooking and baking are two of the more
delicious aspects of science
and research is just as much a part of prepping for a big dinner as it is for chemistry experiment.
From the mechanics of making a good gravy to the effects of brining a turkey to the tools you'll need, we've got the resources necessary for a perfect Thanksgiving.
Alton Brown on Gravy
My dad started teaching me how to make a roux before I was 10 and my mom's mother taught him years before that. The trick to making a good one hasn't really changed much in a very looong time.
Must Have Thanksgiving Kitchen Tools
Roasting thermometers have saved my butt and dinners many a time.
The Argument for and the Science Behind Brining Your Turkey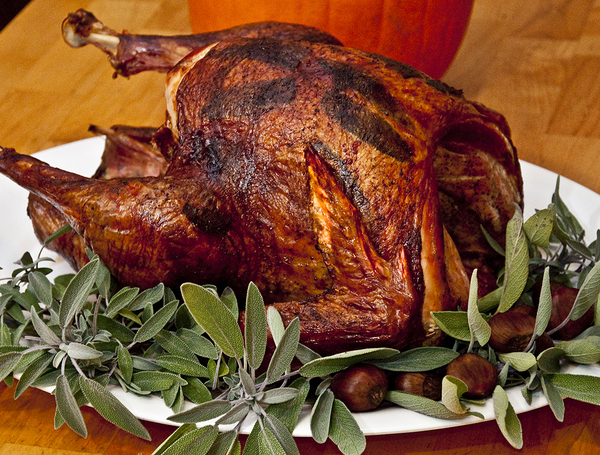 Most people I know swear by brining their turkey. I'm in the "too much of a hassel" camp.
How to Circumvent the Health Risks of Stuffing Your Bird
Mmmm. My favorite part of Thanksgiving dinner is the stuffing.
Pecan Pies Can Be Tricky
If stuffing is my favorite side of Thanksgiving dinner, then pecan pie is the best part of dessert.
If anyone at your table has nut allergies and can't enjoy the gooey deliciousness, you may want to try this nut-free faux pecan pie recipe I'm trying this year.
Have any science-y tricks or tips to share? Do so in the comments!
Update!
I forgot to mention that Butterball has an awesome calculator to figure out how long it will take to cook your turkey stuffed or unstuffed and thaw it by weight.