by Meghan B.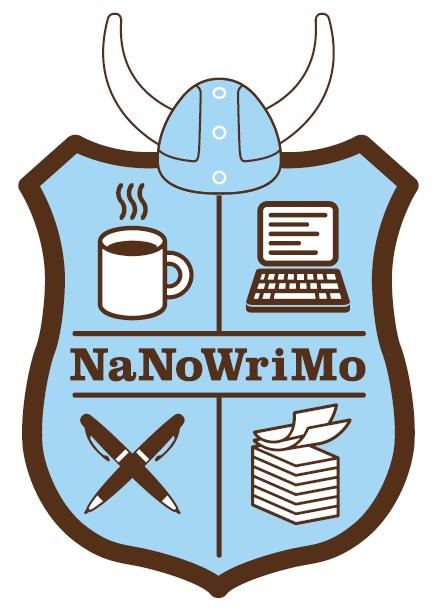 It is one week until November! Do you know what that means? It's officially NaNoWriMo time! What, you don't know what NaNoWriMo is? It's only the most insane, wonderful, stressful, awesome event that happens in November! Forget the turkey and parades, this is where it's at.
NaNoWriMo stands for National Novel Writing Month. Started in 2009 with just 21 participants, it now has over 200,000 people who scoff at the idea of free time and try to bang out a 50,000 word novel in just 30 days. Armed with nothing but copious amounts of caffeine and the power of their imagination, over 2.8 billion words were written last year.
Every year, I set up camp in front of my laptop with a cache of tea and Goldfish crackers and attempt to bring to life a story in just 30 days. It's clearly insane and deliriously fun. I absolutely love it. I've participated since 2006 and I've "won" three times. While nothing has come from these little novels (ahem publishing houses, I'm waiting!), the feeling of accomplishment is invigorating. In a world where we have less and less control of our lives, being the master of my novel is a fabulous feeling. Some days I want to pull my hair out while others are like a waterfall of words.
Have you ever said to yourself "One day, I'm going to sit down and write a book"? If so, what are you waiting for? You have one week to round up some characters and start to pull a plot together. Do you have a novel idea that's been gnawing at your mind for weeks or months of years? This is your chance! Are you ready for a challenge? Now is your time!
The rules are simple. At 12:01am on November 1st, sit down in front of your computer and start writing. Keep writing until 11:59pm on November 30th. It can be any genre you want, as long as it's written by you. 50,000 words may seem like a very short novel, but many notable classic works clock in at that magical number, such as
The Great Gatsby
and
The Hitchhiker's Guide to the Galaxy
.
Think you can't write a novel? That your efforts will be in vain? Some lucky people have turned their NaNoWriMo novels into real published works. Sara Gruen wrote a novel about a Depression-era circus for NaNoWriMo and found massive success with it. It was a New York Times bestseller and even became a feature film. The novel? The lovely
Water For Elephants.
Maybe one day you can also have a sparkly vampire play the lead in your book's movie!
It's just 1,667 words a day. That's equivalent to just twelve tweets on Twitter.
You can do this. We're in this together. Go to
the NaNoWriMo website
and sign up. Run to the store and stock up on snacks and candy. Prepare to fling yourself into a world of words and madness. I mean, what ELSE are you going to do in November anyway?