by Sara N.
Who says needlepoint isn't a dynamic medium? Textile artist Aubrey Longley-Cook created a thread-based flip book of sorts by creating 14 different images of a dog, then
animating them
. Behold: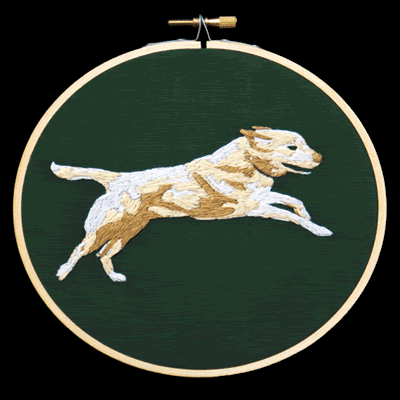 What a happy, running canine! Don't you just want to chuck his doggie chin and tell him he's a good boy?
Longley-Cook has many other intriguing projects up at his blog,
spool spectrum
. Keep reading for a few examples.
I like to think the stitch lich's ears are really a pretty bow.
Arteries really set off a good manicure.
It's well worth a visit to his blog to see how he subverts expectations for needlepoint, which I, at least, usually think of as a medium reserved for traditionally beautiful scenes and objects. But Longley-Cook's work is just as beautiful as more traditional projects and, because of its unpredictability, is all the more exciting.