by Sara N.
The situation for women in scientific fields is disheartening.
Too few women
are earning Ph.D.s in science and mathematics, and high school students tend to
undervalue the expertise
of their female science instructors. In addition, the contributions of talented female scientists are
relatively unsung and unacknowledged
.
Thank goodness, then, for xkcd and Zombie Marie Curie. The
always delightful webcomic
recently imagined Marie Curie as a champion of women in the sciences: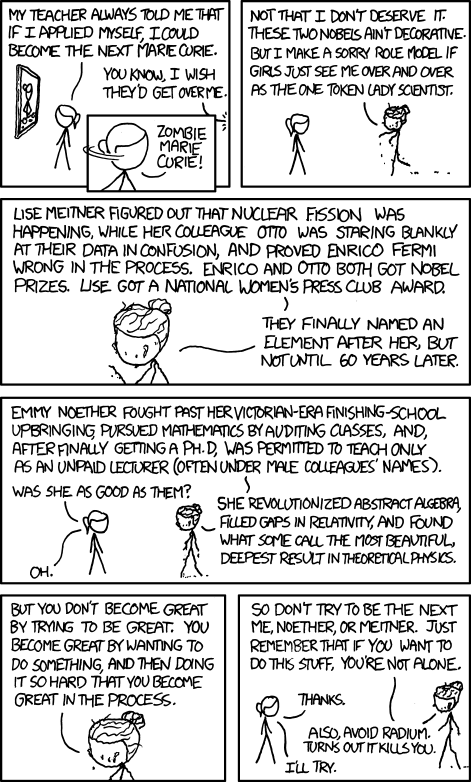 The
NPR article about the xkcd comic and its creator, Randall Monroe,
points out some of the prejudices Curie faced during her life, including a public shunning for embarking on a romantic relationship following the death of her husband. (Frankly, any woman who works with radioactive particles and then takes a lover while winning two Nobel prizes is a champ in my book.)
I'd like to spread Zombie Marie Curie's message to all of the women coming to a crossroads in the next few weeks. To the girls graduating from junior high and getting ready for high school in the fall: Work hard in your classes. Compete. Question. Push. Figure out what you love and pursue it, even (or especially?) if it's in a traditionally male-dominated field.
Photo courtesy of thadz at stock.xchng
To the high school women who will graduate soon: "If you want to do this stuff, you're not alone." Don't let outdated gender roles dictate what you'll study in college. Don't let a lack of high-profile female scientists in history books, popular culture and the media keep you out of biology and physics and engineering classrooms when you get to your campuses in the fall.
We need you. Our future daughters need you, and so do our future sons. We need you to work in the medical research labs and design the energy-efficient buildings of the future. We need you to expand the technology to harness wind and sun and water energy to power our lights and cars and computers. We need you to perfect nanotechnology and find a cure for cancer -- and maybe the common cold, too, while you're at it.
But we also need you to celebrate the achievements of our sisters in the sciences. We need you to be journalists and historians and teachers and mothers and CEOs and lawyers and artists, and we need you to embrace and promote the women who are doing amazing things, no matter what the field. Make sure those high-achieving women get their due in society and in the history books. Whatever you can do will make a difference, and that's the way to make things better.
Oh, and also, avoid radium.