By Meghan B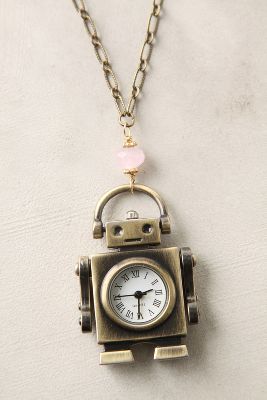 I have no shame in saying that I am a huge fan of Anthropologie. On the surface, the brand can be easily dismissed as a hippie dippy bohemian stereotype, but if you dig a little deeper you can find some fun geeky things to wear.
One such item is their newly released "Clockbot Necklace".
Yes, it's a charming little necklace with a pretty pink stone
attached to a freakin' working robot clock!
A robot. With a clock. That works. On a necklace. Um, holy crap. Yes please.
Anthropologie Clockbot Necklace
- Online exclusive, $28